Happy Friday, my dear friends!
A short & sweet Friday post because you know I can't stay away from you all for too long.


It's been a while so, let's Friday's Letters- okay?!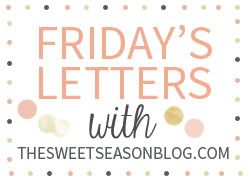 Dear Health/Immune System,
Please stop being so damn difficult to work with. I'm trying to take care of my body so I'd appreciate it if you'd just let me do that. K, thanks!
(
source
)
Dear Sunshine,
If you could come out so I could get some vitamin D naturally that would be awesome.
Dear IRL Friends,
I didn't get to see any of you all week. I'm excited for the weekend ahead.
Dear Loves of my Blog Life,
I seriously appreciate you. It's crazy how so many of you have turned into real friends- I mean we text each other and everything. I think it's pretty cool!
Dear Work,
Thanks for not totally kicking my ass when I came back to you yesterday.
Dear sweet & kind co-Workers,
Thanks for MAKING it so that coming back to work wasn't totally horrible.
Dear Dunkin Donuts,
It was a rare occasion that I used to eat you. Now that I'm gluten free (or trying!)- I'm seriously craving donuts. I always want what I can't have.
Dear Weekend,
Could you please extend yourself?
Dear Jessy,
Happy birthday & THANK YOU for giving me an awesome cut & color. I still love it.
Dear Mom & Dad,
Thanks for all of your support- always & this week especially. I don't know what I'd do without your support.
Dear Bank Account,
If you could magically GROW over the weekend...that would be AMAZING! I'm pretty sure it won't happen, but, if you could arrange it I'd be so thankful.
Dear Northeast Friends & Family,
STAY SAFE this weekend! I promise I won't complain about the "cold" here anymore.